Description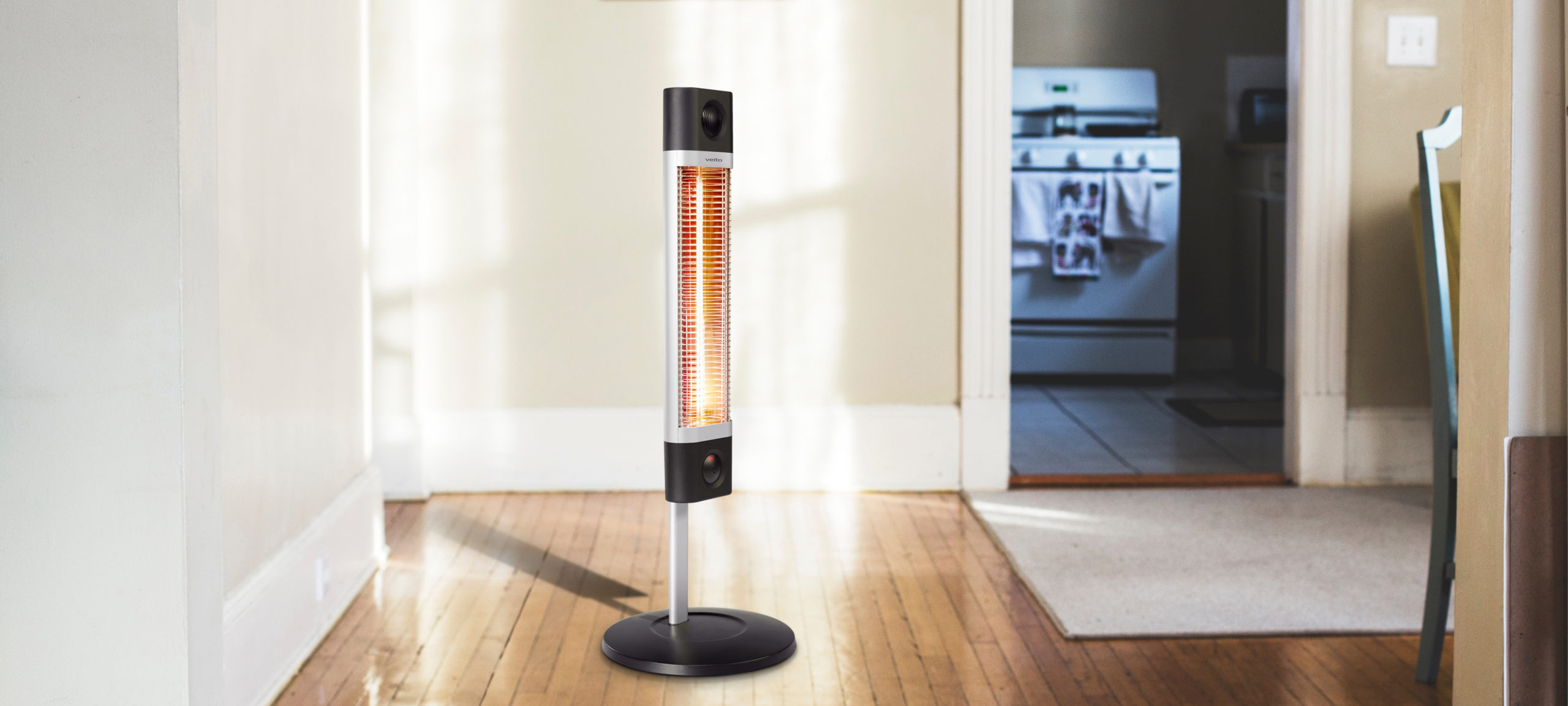 Veito CH1800RE Free Standing Carbon Infrared Heater, Silver is the free standing floor model complete with an adjustable height stand (820-1350 mm) and a choice of four different temperature settings: 900W, 1200W, 1500W and 1800W. This model also comes with a remote control that automatically regulates the power consumption based on your chosen temperature. When the heater is knocked over it will automatically shut down. If the heater exceeds temperature requirements, it will automatically switch itself off. When the timer is set, the heater will automatically shut down at the end of the determined time. With the lightened aluminum body and built-in carry handle, it can be easily carried to different usage areas. The adjustable height is convenient and allows efficient usage. This model also comes in white.
Veito CH1800RE model is nominated as Best Infrared Heater in the UK for 2018: https://www.bestadvisers.co.uk/infrared-heaters
Remotely Controlled

With the remote control you can set all functions and settings: regulate the heating levels, activate and set the timer function and activate and set the automatic temperature control. The automatic temperature control allows you to set the desired temperature.
Indoor Heater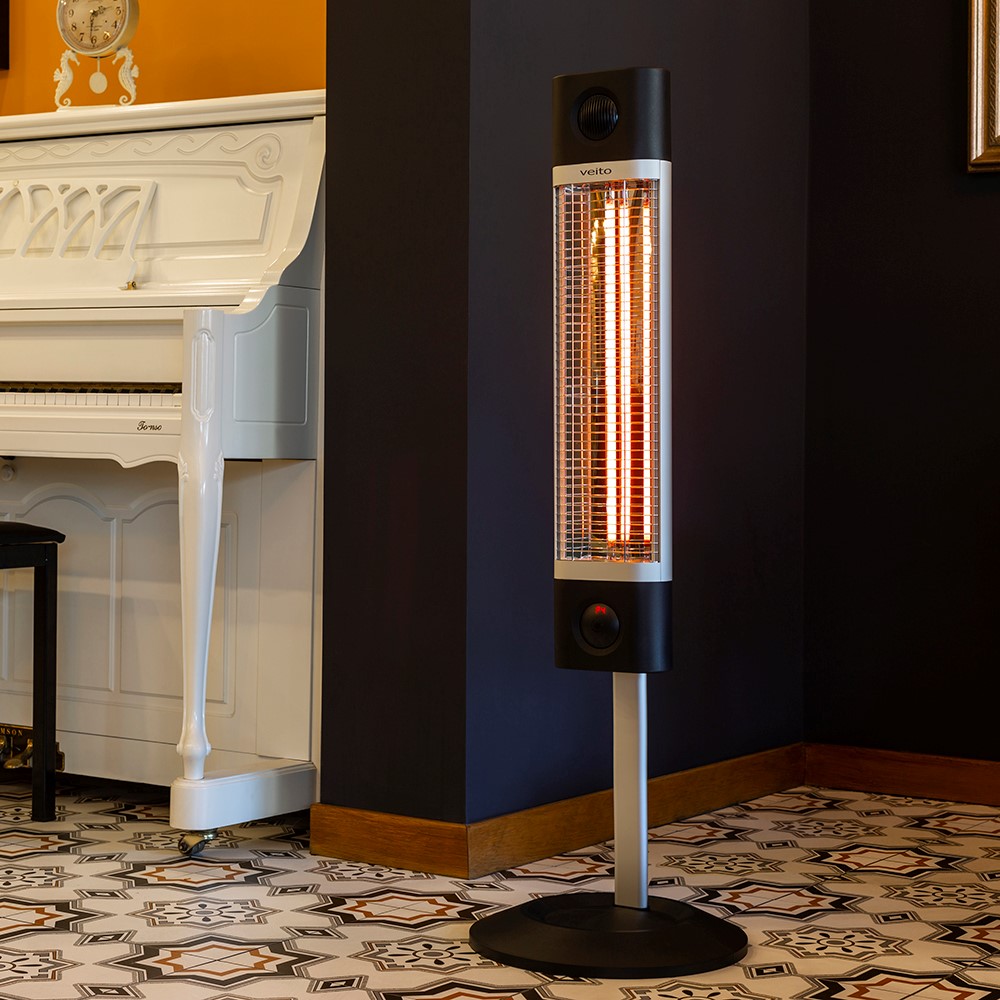 Veito is the world's leading manufacturer of carbon infrared and patio heaters. Veito CH1800RE heater is the perfect solution for indoor space. Veito CH1800RE is ideal for indoor spaces such as homes, conservatories, restaurants, offices, etc.
Economical to Run
V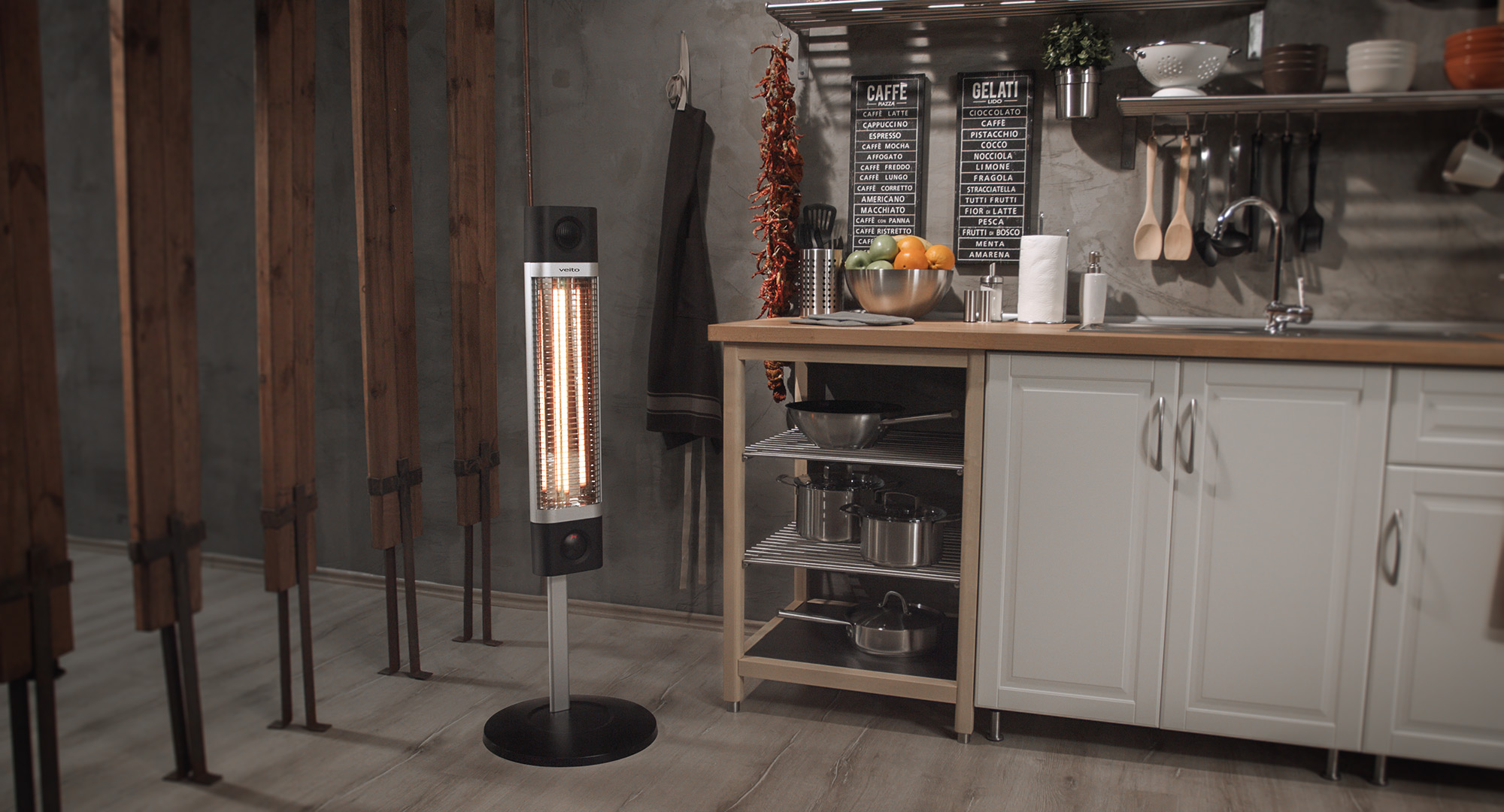 eito heaters are economical to run. They work on infrared heat waves that are distributed throughout the room. Veito heaters are different from conventional heaters, as they start to heat as soon as they are switched on.
Modern Design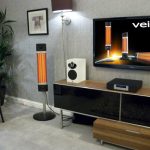 Veito heaters are made using the latest carbon fiber technology, and are robust and hard-wearing with long-lasting heating elements. Veito heaters are quiet, reliable, and made with high quality electronics that have a superior performance. Veito Heaters are stylish with a modern look, and they do not occupy unnecessary space, due to their suitable ergonomic design. They come with a remote control so that the heater can be controlled from a distance, and they also have a convenient built-in timer control.
Box Contains
1 x CH1800RE Carbon Infrared Heater
1 x stand
1 x stand base
1 x remote with battery
1 x Product Manual
Specification
Power settings: 900W, 1200W, 1500W, 1800W
Space of use: 20 sqm.
Power supply: AC 220V-240V 50/60 Hz
Product size (WxLxH): 80mm x 810mm x 170mm (base 400 mm - max height 1350mm)
Product weight: 2.8 kg
Safety device: Tip-over Protection, Overheat Protection
Controlling method: Push Button Control and Remote Control
Controlling function: Automatic Temperature Control, Four Power Settings, Off-Timer
Heating element lifespan: up to 10,000 h
Certificates: CE, TUV / GS
3 pin UK plug