Very pleased. Very economical. Recommended
If you would like to know the detail, see below, but for the TLDR "Too Long Didn't Read": I have found this heater to be just right for me and is proving to be very economical. The heat is immediate, the unit doesn't make any noise, no odours and I quite like the warm orange glow. It is lightweight, stable, well-constructed and as heavy as it needs to be so it is still portable. The height is easily adjusted by using a screw wheel on the back. No big deal. Also, I had a couple of questions (not problems) and the customer service response by phone was excellent. Don't move the unit when it is on though (it says quite clearly you shouldn't for safety), as it will activate the tilt function, which is what it is supposed to do, and shut the unit down.
Detail:
My gas fire failed and I had to use a thermostatically controlled, electric oil filled radiator to heat the living room which was turning out to be very expensive. After installing this IR unit and monitoring the Kw/H used, it is turning out to be much more economical and I estimate that I am using approximately 30% less energy than the radiator, so I am quite pleased. I also like the "direct heat"aspect and we actually perceive it as much more cosy. You have to be aware that it is direct heat, it doesn't heat the air and is not an "enveloping" heat, but the room temperature will warm up eventually. It is the direct infrared heat that is heating YOU and all the objects in the room. Positioned at the end of our living room which is 21ft long and about 14ft away from our normal sitting position (room is ~ 190 sq./ft., 21 sq./M in area), I have found that I only need it on level 1 or 2 continually, but normally just on 1. First thing in the morning it is on 4 for a short while. My partner, she likes it a lot warmer than I do, likes it too and doesn't feel cold. Your mileage may vary, as they say, but this suits us.
I'd like to offer my sincere thanks for the incredible after sales customer service your company has offered me.
The speed at which you'd repaired it and then returned it has been excellent. Thanks again
Just to say that the heaters I ordered online yesterday have arrived today! and are in good working order. I am amazed at the speed of delivery. It's wonderful.
The worth of a company is measured by its after sales service, your is obviously second to none.
These Veito heaters, they have gone down a storm here at the Ficklestix Studio.
Marko - Ficklest Studio, UK
These heaters are amazing. Low cost, high heat. And easily installed. They have transformed our industrial like studio into a warm office. Brilliant.
Chris Arnold - Creative Orchestra, London, UK
It is the best water heater I have bought.
Your customer service is fantastic.
Been using my Veito CH1200LT (600/1200w small floor standing). The best heater I have used so far. Only on 600W but better than the calor gas, convector, oil filled, halogen, I have used in the past. The Veito heats me up on 600W and takes up less space than the rest.
Hello, I think this is a great product if you want instant heat in a stylish package this is the one to go for I had been looking for something for quite some time but could never find anything that met my criteria this has both good looks and is also very efficient.
It was so refreshing to at last deal with a company and be able to speak personally with the owner. Great product and fantastic service. I would never look elsewhere for my heating requirements.
Fiona Dunning - Ashbourne Stables, UK

I came across the Veito range of carbon infrared heaters at the Ideal Homes Show in late spring. Having added a wrap around veranda to the back of my home I was on the lookout for the ideal heating solution. This had proved to be a frustrating search with most heat sources being too cumbersome, ugly or inefficient. But with Veito, instantly I knew they were the perfect solution! Sleek and beautifully designed with a contemporary feel and extremely keenly priced, they were rapidly delivered and, once installed their ease of use was a revelation! A simple remote control allows for 4 settings and the portable heater on an adjustable stand can be plugged in anywhere in the room.The result is that our enjoyment of our garden is prolonged late into the evening, we have late suppers and barbecues under and the warm glow, and even the orange light that emits helps to enhance a wonderful atmosphere.
I cannot recommend Veito heaters highly enough. For me they've become the perfect outdoor & indoor heating solutions.
Diarmuid Gavin - London, UK

Veito in Antarctica – The Coldest Place on Earth
Operating in one of the most extreme wildernesses on earth is not easy. Yet the Veito heaters that have been installed in all White Desert's pods worked seamlessly. With just a touch of a remote, the heaters produced wonderful radiant heat that kept our clients warm and cozy, even when a storm was raging outside. Out there, heat really matters and I can thoroughly recommend the Veito line to anyone looking for an effective heating solution, no matter where they are based.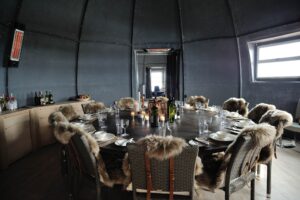 Patrick Woodhead - London, UK